Rep. Jim Banks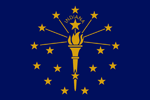 Indiana · District 3
Signed Texas amicus brief
Objected to certification of electoral college votes in one or more states
Made no public statements about the election, or was evasive
Voted against impeachment or conviction of Donald Trump for inciting an insurrection
Voted against creating an independent commission to investigate the Jan. 6 attack
Voted against holding Steve Bannon in contempt of Congress
Biography
Rep. Jim Banks represents Indiana's 3rd district in the House.
On Nov. 5, Rep. Banks tweeted "Last time, we know from Peter Strzok that Democrats had an insurance policy if Trump won the election… What was Democrats' plan this time around? And does it include the shady ballot counting happening in WI, MI and PA?? Impossible to believe they didn't have one." He went from pushing these blatant lies about the election to objecting to certifying the results with no evidence to back up his accusations.
Rep. Banks also failed to hold Trump accountable for his role in sparking the Capitol insurrection, telling a reporter that it was a "far reach" to say Trump bore any responsibility.
Rep. Banks did not vote in support of the bipartisan commission proposal to investigate the Jan. 6 insurrection.