Rep. John Curtis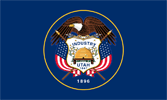 Utah · District 3
Did not sign Texas amicus brief
Affirmed certification of all states' electoral college votes
Made statements that supported the integrity of American democracy
Voted against impeachment or conviction of Donald Trump for inciting an insurrection
Voted to create an independent commission to investigate the Jan. 6 attack
Voted against holding Steve Bannon in contempt of Congress
Biography
Rep. John Curtis represents Utah's 3rd congressional district.
Rep. Curtis was one of the Republican House members to not sign onto the failed Texas amicus brief. He also did not join other House Republicans in objecting to the counting of the electoral college votes in any of the states.
Rep. Curtis also made it clear to his constituents before the Jan. 6 insurrection that the results of the election were counted correctly and Joe Biden was going to be the next President. In a tweet, he wrote, "I plan to respect each state's decision, certify the election, and continue to work with my colleagues on solutions."
However, Rep. Curtis did not want to hold President Trump accountable for his actions that led to the Jan. 6 insurrection and did not support impeachment.
Rep. Curtis voted in support of the bipartisan commission proposal to investigate the Jan. 6 insurrection.