Rep. Jim Baird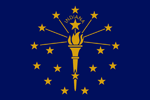 Indiana · District 4
Signed Texas amicus brief
Objected to certification of electoral college votes in one or more states
Made no public statements about the election, or was evasive
Voted against impeachment or conviction of Donald Trump for inciting an insurrection
Voted against creating an independent commission to investigate the Jan. 6 attack
Voted against holding Steve Bannon in contempt of Congress
Biography
Rep. Jim Baird represents Indiana's 4th district in the House.
Rep. Baird signed the Texas amicus brief aiming to throw out the votes of millions of Americans, and he objected to certifying the results of the 2020 election even after the Capitol insurrection. In a statement, he said "while I condemn the violent protests that occurred today at the U.S. Capitol in the strongest terms possible, it doesn't change the fact that concerns remain on how several states enacted new election rules."
After the Jan. 6 insurrection, Rep. Baird also tried to minimize the attack, saying "to start equating this as an insurrection and all the things that people are labeling it with, is very unfortunate." He would also fail to hold Trump accountable by voting against impeachment.
Rep. Baird did not vote in support of the bipartisan commission proposal to investigate the Jan. 6 insurrection.