Rep. Chris Stewart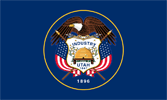 Utah · District 2
Did not sign Texas amicus brief
Objected to certification of electoral college votes in one or more states
Made false and/or irresponsible public statements against democratic system
Voted against impeachment or conviction of Donald Trump for inciting an insurrection
Voted against creating an independent commission to investigate the Jan. 6 attack
Voted against holding Steve Bannon in contempt of Congress
Biography
Rep. Chris Stewart represents Utah's 2nd congressional district.
Rep. Stewart initially sought to blame the mainstream media for Trump's election loss, tweeting "they said we're willing to be wrong in order to shape public opinion. No one will hold us accountable." In announcing his decision to object to certifying the 2020 election results, Rep. Stewart amplified lies about irregularities, stating "if anyone says that there's no evidence, that's just absolute nonsense. There's plenty of evidence about this. The question is, is there enough evidence to overturn the election." He did not provide any evidence and went through with his vote to object.
He also justified voting against impeaching Trump for his role in inciting the Capitol insurrection by stating "there's nothing that's going to happen to this country that we destroy ourselves in that period of time." He failed to take the threats to our democracy seriously, and he has earned his F grade.