Rep. Blaine Luetkemeyer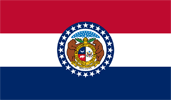 Missouri · District 3
Signed Texas amicus brief
Objected to certification of electoral college votes in one or more states
Made no public statements about the election, or was evasive
Voted against impeachment or conviction of Donald Trump for inciting an insurrection
Voted against creating an independent commission to investigate the Jan. 6 attack
Voted against holding Steve Bannon in contempt of Congress
Biography
Rep. Blaine Luetkemeyer represents Missouri's 3rd district.
Following the election, Rep. Luetkemeyer failed to definitively say that Joe Biden was President-elect, and was evasive when asked for comment on election fraud and his decision to object to the certification of Electoral College votes. On Dec. 8, he endorsed Ted Cruz's failed effort to represent Trump in front of the Supreme Court in an effort to reverse the electoral results in Pennsylvania. On the morning of Jan. 6, he reiterated that he planned to object to certification of Electoral College votes from "states we believe clearly violated the Constitution in the 2020 presidential election."
Rep. Luetkemeyer did not vote in support of the bipartisan commission proposal to investigate the Jan. 6 insurrection.
He receives an F.